Avoid Expensive Termite Damage
Termites cause approximately $1.5 billion in damages to U.S. homes each year. Don't become a statistic! Contact Terminator Termite & Pest Management Inc if you have – or think you have – a termite problem.
Our termite services:
Inspection
Spraying
Termite baiting
Options for infestation control and prevention
Common Termite Facts
Feed on cellulose material like wood
50 common species nest up to 20 feet underground
Colonies made up of several million termites
Tunnel for food and moisture
Able to cause a great deal of damage before they're detected
Plentiful in dead and decaying trees
Often mistaken for flying ants when swarming in the spring and fall

Termite Detection and Prevention
Keep mulch at least 12 inches from home foundations
Remove all scrap wood and wooden debris from around the home
Don't let the sprinkler system over water near the foundation of your home
Clear gutters clean of leaves and debris
Make sure gutters discharge water at least 3 feet away from the home
Look for piles of discarded termite wings on windowsills, countertops, and floors
Look for wood residue, shavings, tiny holes, crumbling drywall, and sagging doors
Beware of bubbled paint or visible, pencil-sized mud tubes running across concrete or connecting soil to wood
Schedule an annual termite inspection for your home
If you see swarming or flying insects inside your home, contact us immediately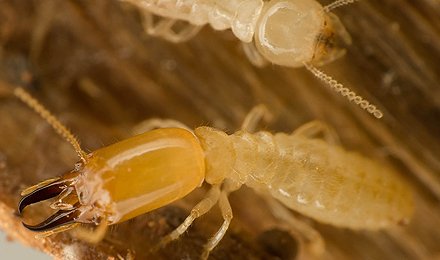 Call Us Today to Schedule an Appointment!
Contact Us To Set Up An Inspection

"Joey is such a pleasure – always professional and informative about any issues we need to know about. Very pleased with the service all around."
– LeAnna, customer feedback