Local Experts for Elimination of Spiders and Silverfish
When it comes to unwanted houseguests like silverfish and spiders, look no further than Terminator Termite & Pest Management Inc for proven results.
We are a family-owned business and have brought peace of mind to residents throughout Central and Southern New Jersey. Contact our experts today.
Silverfish Facts
Silverfish are wingless, nocturnal insects that are most active in the summer. They enjoy high humidity and feed on starches, sugars, and proteins gathered from bookbinding, glazed paper, and dead insects. Silverfish can be introduced to your home in the form of old books and papers, cardboard boxes, and other paper products.
Solutions for Getting Rid of Spiders
Although spiders tend to be loners, they can be found in large populations. A big spider infestation is a sign that a considerable insect problem exists.
Spiders like to hide behind drapes. They can also be found in cluttered areas like basements, garages, and closets. Outside, they like to nest under windows and eaves as well as in leaves and woodpiles.
In many cases, our services are engaged after someone has suffered a spider bite. All spiders are potentially venomous. Particularly dangerous are varieties that carry venom, including the black widow spider, fiddle or brown recluse spider, hobo spider, and the family of sac spiders.
Let our team identify your spider issues and suggest an effective treatment program.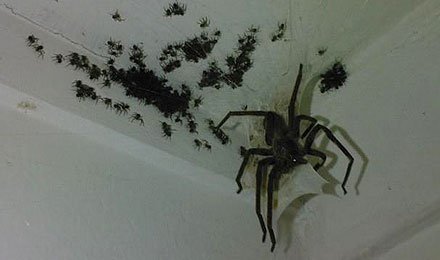 Call Us Today to Schedule an Appointment!
Contact Us To Set Up An Inspection

"I am very satisfied with the service. I just scheduled my next quarterly visit and have all intentions of renewing."
– Adele E, Marlboro, NJ, customer feedback